Hey everybody! Thanks for all of your patience! Woo eee this page was a tough one!

SO I HAVE AN ANNOUNCEMENT!

Patreon rewards have CHANGED! Now, if you support Lighter than Heir on patreon, you get...

$1- Get access to behind-the-scenes shots of LtH everyday we work on the comic!

AND!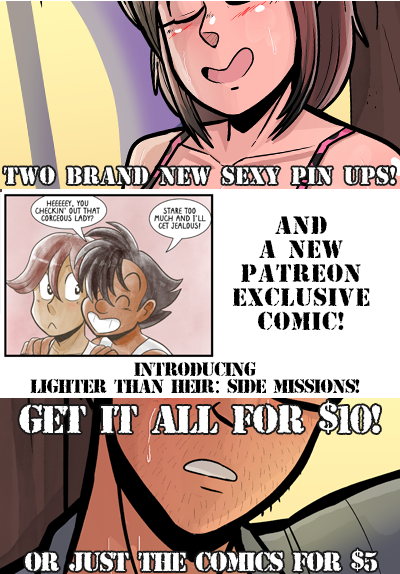 Sexy/cheesecake-y/beefcake-y pin ups for $10+ and for the $5+ patrons, is the new Patreon exclusive comic "Lighter than Heir: Side Missions" which while optional, are completely canon!
http://patreon.com/lighterthanheir

If you're interested, pledge by the end of February to get not just these rewards, but the ones for February too! Not just that, but you'll also get access to our 150+ pages of book exclusive comics! Whee!
That's all for now. I have a cold! :( Gonna go rest.

Have a good one! Bye!